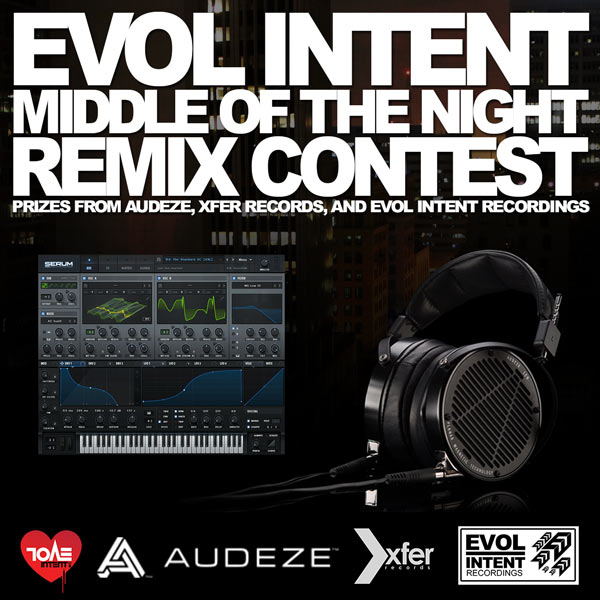 RULES:
– Sign up for the contest with the widget at the bottom of this post to grab the samples.
– Winners will be selected by the elite team of Evol Intent A&R specialists. Contest closes at Midnight EST February 1st, 2015. Feel free to post and share remixes on Soundcloud throughout the contest but we ask that you keep the downloads disabled for now. Remixes for the competition are to be posted to the Soundcloud group located here:
https://soundcloud.com/groups/middle-of-the-night-remixes
– While all genres are accepted, we recommend steering away from drum and bass entries unless you can seriously upstage the original and/or Reso remix. Get creative!
– One remix per artist, only one version will be accepted. Do not submit work-in-progress versions of your remix.
– This should be obvious, but be sure to retain a high-quality version of your tune in wav format. 320kbps MP3s are acceptable for the contest uploads on Soundcloud.
– All samples are the property of Evol Intent/Evol Intent Recordings, so please no douchebaggery: like reusing the samples in original tunes or chopping and reselling audio in sample packs (you know who you are). Offenders will be called out for being asshats and/or face possible legal action/public floggings with a vengeance.
– Participants hereby grant Evol Intent Recordings an irrevocable, fully-paid, perpetual world-wide license to reproduce, edit, adapt, copyright, publish, transfer, distribute, perform, display and use any or all of the entries, without compensation to you or any third party. All remixes submitted become property of the label, and by submitting you accept this. Entrants who are under the age of majority in their country should get parent(s) or guardian(s) permission before entering.
PRIZES
1st Prize: Evol Intent has teamed up with Audeze to bring the winner a pair of LCD-2 headphones. For the uninitiated, Audeze make the finest headphones in the world, amazing for production and a product we believe in. Find out more at http://audeze.com

2nd Prize: A copy of Xfer Records Serum synth. This is the same synth Gigantor made patches for, and is the next level in virtual synths! Another product we use and stand by, more info available at http://xferrecords.com

3rd Prize: Evol Intent swag pack featuring a t-shirt, stickers, and more.

Top remixes will also be sold via digital mediums and available free on an EP on Evol Intent Recordings. Aside from the rad prizes, winners will also get quite a bit of attention/exposure for making the winner's circle.

– Questions? Contact us via any of our means of social media and we'll do our best to hit you back with an answer.

Thanks for your interest, and good luck!!

Grab the samples here: